オーストラリア滞在記⑤
2019.07.08
Hello, everyone! I'm Honoka Endoh.
Term 2 (the first term for me) is finished~!!
Now, I am on school holidays for two weeks.
The last term was terribly hard for me so, I will talk about my "hard term" as I mentioned last month.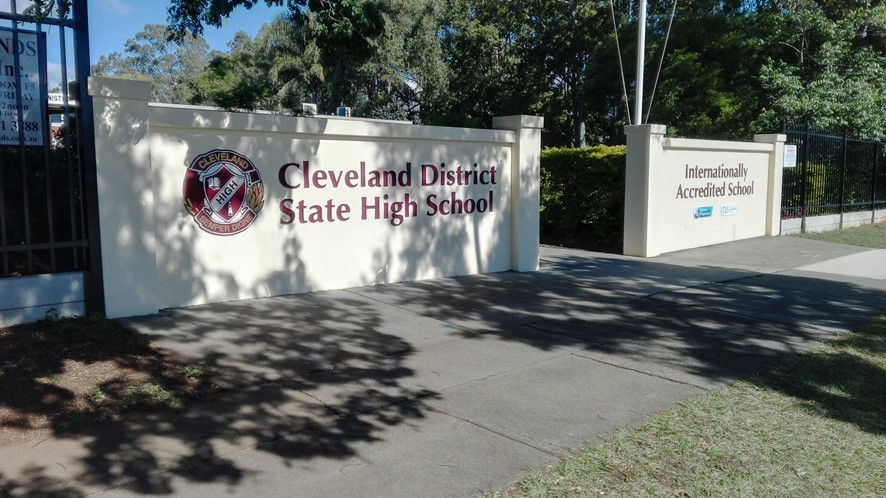 I said the term was too hard, however, the break time which I can spend time with my friends is so good.
So, firstly, I'd like to talk about the good moments.
I was able to join the very good group of local students and some international students.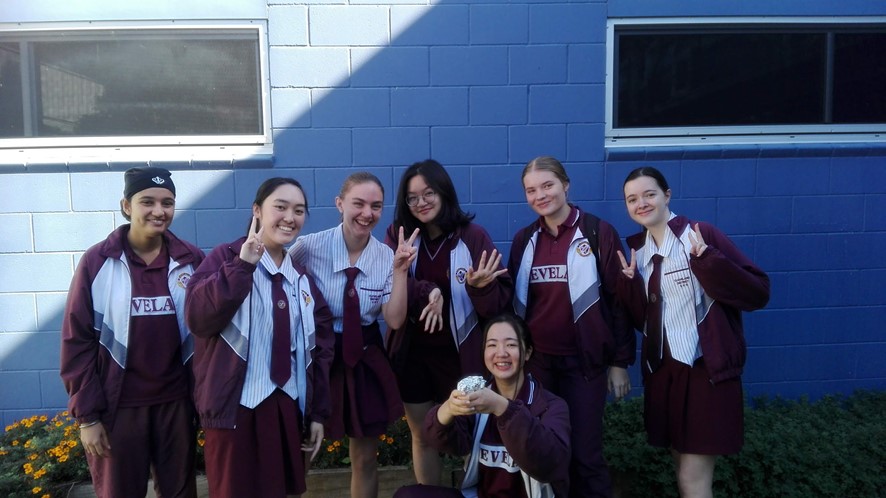 (We took this picture during lunch time)
They are very kind, nice and awesome. When I couldn't understand what they were saying, they would explain it for me.
So the time I spend with them is good practice for my English as well.
Also, they help me with my English for my assignments and with understanding the class notes and lessons.
I am having a good time at school thanks to these friends.
I can't talk a lot when I am in a group yet because my brain is still trying to fully to understand what they are saying.
However, I think I am better at speaking one on one with others than when I first came here.
So, I want to get better at joining conversations even if I am chatting with several friends.
I joined choir club! Since I love singing, it is so fun for me. (It's the different type from Japanese one though.)
Next, I will introduce the things that surprised me most.
・Students don't need to go to school on Mondays
Year 11 and 12 (2nd and 3rd grade of high school) don't need to go to school on Mondays.
We have school longer days than other grades though.
We can go to school and do our own work as well.
Also, international students can get support from the teachers.
So, I always go to school on Mondays to have the teacher check of my report or something.
It's very helpful for me.
・We can eat lunch two times a day
They are called "Morning tea" and "Lunch". I like this system!!
We don't feel hungry during the classes with this system.
And also, we are allowed to gather wherever we want with whoever we want.
Like I said earlier, it's the best part of the school life.
・The buildings are separated for the subjects
There are twenty buildings in Cleveland District State High School. At first, they were like maze for me.
I usually go to certain buildings for each different subject's class.
So, we walk outside when we go to each subject.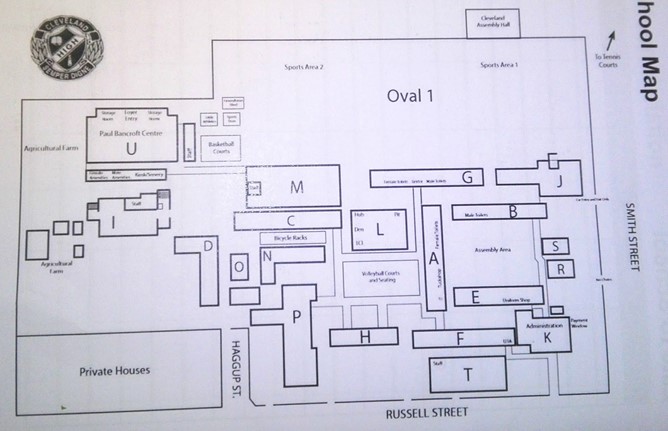 (This is the map of my school.)
・Laptop(PC) is necessary to go to school
A laptop is one of the most important things which I must bring to school.
I use the laptop for my textbooks, notebooks, reports, handouts and as a way to contact the teachers and my friends or classmates.
I don't have any hardcopy textbooks because they are all on my laptop.
It's useful because it makes my bag lighter.
However, I sometimes want to write down on the textbook, like for example such as the meanings of words.
I have realised the good points of using paper since I came here.
Also, I'm very bad at typing, so, it is really hard for me to catch up with any language problems.
So, I'm practicing touch typing now.
However, having the laptops makes it easy for me to contact my teachers anytime.
My English is still improving, so sometimes it's easier to tell what I want to say with written words.
・Students can choose subjects out of various choices
We can take 6 subjects and only English and Mathematics are the only mandatory subjects.
Therefore, we can choose the other 4 subjects. In Japan, we can choose subjects as well,
however, almost all subjects are already decided depending on which courses (humanities or science) we choose.
Australia has the same similar subjects as Japan, but also other unique studies
such as a few different languages, legal studies, drama, agriculture, tourism, economics, business and so on.
This shows us that students are given more choices earlier than Japan.
Finally, I will talk about my school life and studies.
I chose Drama, Music, Japanese and Chemistry other than English and Mathematical Methods.
However, I changed from Chemistry to Economics, so, I will be to learning Economics from next term.
In this term, I didn't have any big exams. Instead of that, I had several assignments (large and detailed reports).
All of them are very high level and the contents are which I've never done.
For example, in Chemistry, I did an experiment and analysed it before having to make a report about the experiment.
And in Music, I created a composition.
In Drama, I had to make a modified story from a fairy tale or story which had to include a problem which exists in current society.
Compered to Japan where there are many things we have to memorise, Australian schools teach me to consider things about society from what I have learned and put it into practice.
Since I've gotten used to way of Japanese-style teaching, it is too hard to do these assessments.
And I don't have the English skill, either. Sometimes, I wanted to forget about my work and rest.
However, once I finished, I felt a sense of accomplishment which I've never had before.
Also, I think these assessments were very good experiences for me to develop my skills with English and way of thinking.
Next term, I have very big exams (Block exam) and assessments as well.
It will be really hard, but I will do my best to get good results not only with my marks but also with my skills.
Thank you very much for reading through to the end. See you next month!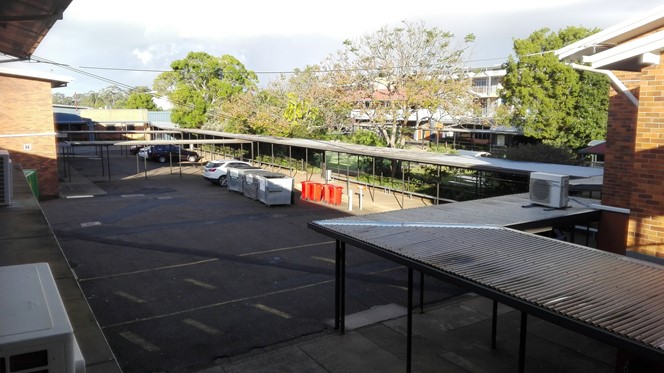 (It's just a part of my school)
Honoka Endoh
06/07/2019