第14回
2018.11.15
Hello, everyone!
I'm Yui Akai.
I'm on summer vacation now.
There were exam and assignment on each subject before entering the summer vacation.
The contents of assignments were interesting for me.
I was taking "English Communication", "Hospitality Practices", "Mathematics A" and "Film, Television and New Media."
Mainly, there are three types of assignment.
They are writing essay or report, doing presentation and create anything.
I did presentation in English Communication and Hospitality Practices class.
The contents of presentation in English Communication was media campaign about local issues related to teenager and introduce my plan of new reality TV show.
Reality show is a type of TV show and the documentary is a example of the reality show.
Teacher told us to do this presentation with a feeling like a real presenter do it to companies or society, not as part of the lesson.
So, I thought how can I do to present them more better to people and did my best.
At first, I was confusing because I didn't know about the issues related to teenager and reality TV show in Australia well.
But, I thought it was like a part of work experience and it was interesting for me.
I told you that I made pop-up restaurant last month.
I made presentation about feed back of pop-up restaurant in Hospitality practices.
Teacher gave as the information about length, width and depth of 3 shapes of pool and length and width of back yard area.
We calculate total surface area, volume, amount of water, length of fencing and area of paved path and research the cost to build these pool.
The first step is more likely to be in Japan, but the second step is not heard very much in Japan.
The assignment of Film, Television and New Media was most interesting for me.
We made story board of opening sequence of my film and my short experimental film.
Especially, making my short experimental film was so excited XD
By the way, last term I got an award.
Teachers select a student who got good score in each subject.
I was selected as the student in Mathematics A class.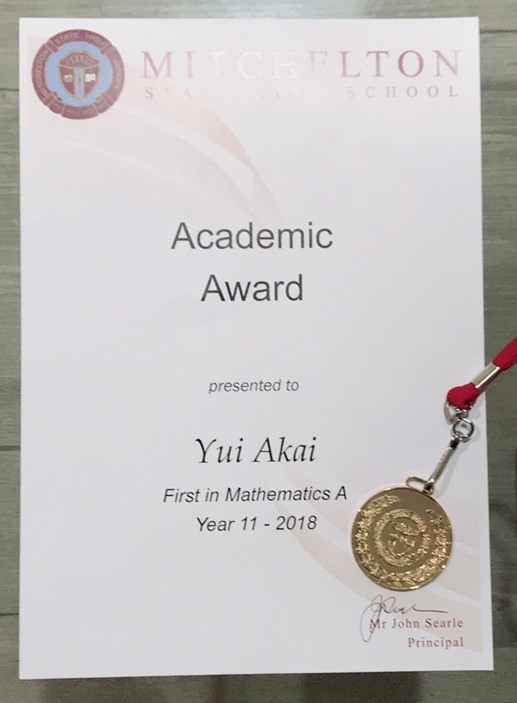 We have just about 3 months.
I feel that time passes so fast every day, I want to keep trying new and exciting experience which I can experience only in Australia until I'll go back to Japan!
Thank you for reading at the end!!
See you next month.
Yui Akai